What is Radon?

Radon is an invisible, odorless, tasteless gas that occurs naturally in the earth's crust. Radon is a product of the decay of uranium. The decay of uranium to lead is a fourteen-step process. Radon is formed at the sixth step. It is unique because it is the first decay product that is a gas, not a solid.

The radon gas itself is not a problem but its decay products are. The radioactive decay products are particles that can attach themselves to lung tissue when the radon gas is inhaled. It is primarily the alpha radiation that causes lung cancer. In the United States, it is estimated that up to 20,000 deaths every year are caused by radon gas. In fact, the Surgeon General has warned that radon is the second leading cause of lung cancer in the United States. As with cigarette smoking, the risk is higher with greater exposure. If you smoke and your home has high radon levels, your risk of lung cancer is especially high. The effects are long term rather that immediate.
Uranium is present in many parts of the earth's crust. Areas subject to high radon gas levels have appreciable concentrations of radon in the earth and cracks through which the gas can migrate up to the surface.
How Radon Enters Your House

Radon that escapes into the air is not a problem, since it is diluted quickly. In buildings, however, radon gas can be trapped, particularly during winter months when doors and windows are kept closed and ventilation is at a minimum. It is difficult to predict which buildings will have a problem.

Radon enters the building through cracks in basement floors and walls, openings around pipes and electrical services into the basement, through water supplies, and through basement floor drains, for example. Even in areas with high concentrations in the earth, one building may have very high radon levels and a similar building across the street, very low levels.

Typically the air pressure inside your home is lower than the pressure in the soil around your homes foundation. Due to this difference, your house acts like a vacuum, drawing radon gas in through foundation cracks and other opening of your.

Radon may also be present in well water and can be released into the air in your home when water is used for showering and other household uses.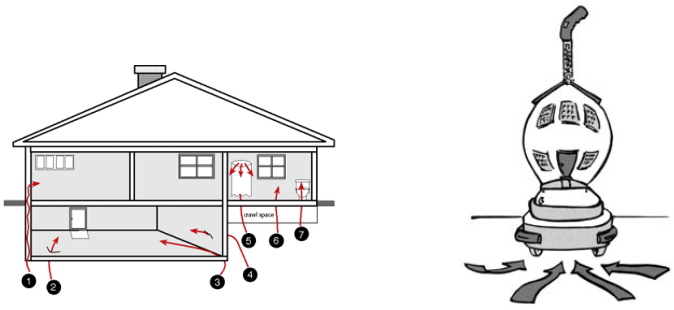 1 Cavities inside walls 3 Construction joints 5 The water supply 7 Gaps around service pipes
2 Cracks in solid floors 4 Cracks in walls 6 Gaps in suspended floors
What do your Radon Test Results Mean?

Testing the air is the only way to know if you are at risk from radon. Tests cannot be used to predict whether a person's exposure will cause harmful health effects because everyone's response to exposure is different. About 1 in 15 homes have radon at levels at which the EPA recommends taking action. The best method for reducing radon depends on how it enter home and its design. For example, sealing cracks in floors and walls may help to reduce radon.

Any radon exposure has some risk of causing lung cancer. The lower the radon levels in your home, the lower your family's risk of lung cancer. The U.S. Congress has set a long-term goal that indoor radon levels be no more than outdoor levels, about 0.4 pCi/L of radon is normally found in the outside air. EPA recommends fixing your home if the results of one taken in the lowest lived-in level of your home show radon levels of 4 pCi/L or higher. With today's technology, radon levels in most homes can be reduced to 2 pCi/L or below.

Call today 573-431-7197 Or 1-800-246-6564 to schedule your Radon Inspections and Testing