Septic System Owner

Clean water is our heritage-it's also our responsibility. as the population grows and more land is developed, we must all find new ways to safeguard our environment for future generations. A septic system may be out of sight, but it definitely should not be of mind. With proper standard maintenance and by being more aware of your daily habits, you will greatly improve the life and health of your system. It's very important to know where the tank is in order to have it pumped and maintenance.


Introduction

A septic tank/absorption field is the most common onsite sewage treatment system in use in Missouri. Nearly 30 percent of all housing units in Missouri use onsite wastewater treatment systems most of these are septic tank/absorption field systems. Several surveys throughout the state have shown that 70 percent, or 150,000, of these systems are not functioning properly. Based on the General Soils Map of Missouri, counties in the Missouri Ozarks are particularly at risk. Depending on the county, 60 to 99 percent of the soils show severe limitations for using absorption field systems.

Human contact with sewage is a serious public health risk. Drinking water contaminated with sewage can cause health problems such as diarrhea, nausea, cramps, dysentery and hepatitis. Exposure to sewer gases can also cause discomfort and illness.

For at-risk areas, connecting to an adequate public sewer system is generally the best alternative for disposing of domestic sewage from private residences. Where access to a public sewer system is unfeasible or too expensive, proper sitting and design of an onsite sewage system is critical to avoid its premature failure. In many situations, an existing system that is failing may not be "repairable." Thus a completely new system may be needed. Misuse of individual sewage systems results not only in water quality problems and nuisance conditions, but also in costly repairs to rehabilitate a failing system. Failing systems include both those that you can see and smell and those that seep effluent, or waste liquids, into groundwater supplies before the soil can properly remove disease-causing pathogens.

To reduce public health risks and protect drinking water supplies, state legislation that took effect January 1, 1996, sets minimum construction, design and permitting standards for onsite sewage systems. Individual counties may adopt stricter standards than those outlined by the state legislation. To ensure compliance with local codes and to reduce their environmental liability, homeowners should consult with their county health department sanitarian or building regulations department prior to new construction or repair of any onsite sewage system.

For counties that have adopted the state standards without modifications, homeowners with single family residences on lot sizes of less than 3 acres must obtain a county permit before beginning construction of any sewage system.


How does a septic tank/absorption field system work?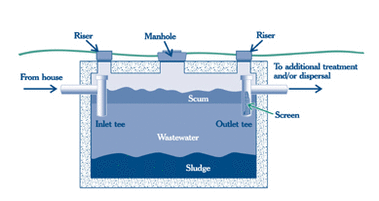 A septic tank system consists of three major components: the septic tank, a distribution device and an absorption field. A septic tank is a large, watertight, corrosion-resistant, buried container that receives raw sewage from the plumbing drains of the home. In it, solids are separated out of the raw sewage and are partially digested by anaerobic (oxygen-lacking) bacteria.
The septic tank must be large enough to allow retention of the raw sewage and some decomposition for at least 48 hours. Solids that are not digested either float to the top to form a scum layer or settle to the bottom of the tank as sludge. Depending on tank size and sewage volume, the sludge and scum must be pumped out at least every 3 to 5 years to allow bacterial digestion to continue in the tank. Otherwise, raw sewage may flow directly through the tank and into the absorption field, causing its failure.
After primary treatment in the septic tank, the liquid effluent flows through the distribution device, which ensures that equal quantities of effluent go to each pipe in the absorption field. The absorption field is a subsurface leaching area within the soil that receives the liquid effluent from the distribution device and distributes it over a specified area where it is allowed to seep into the soil. The filtering action of the soil, combined with further bacterial action, removes disease organisms and treats the harmful material in the effluent, completing the treatment process so that the water is recycled to the surface or groundwater source.
If properly designed, installed and maintained, a septic tank system can effectively treat household wastewater for more than 20 years. All design and construction must be in accordance with Missouri Department of Health (DOH) Rule 19 CSR 20-3.060, Minimum Construction Standards for On-Site Sewage Disposal Systems
Inspector at
Heartland Building Inspections
has tools to locate the septic tank. Once the tank is located, your inspector will make a map of its location. If the soil treatment system cannot be found, there may not be one or it maybe discharging into ground or surface water.
Existing septic systems may fail for a number of reasons. For the owner, the system is failing if it is not treating the wastewater effectively. The most common causes of system failure are excessive water, improper maintenance, or an inadequately designed system. Diagnosing the specific causes may be difficult for owner and often requires the skills of a professional's at
Heartland Building Inspections Call today 573-431-7197 to schedule your inspections or Clink here to submit an online quote.
Why should I maintain my septic system?

A key reason to maintain your septic system is to save money! Failing septic systems are expensive to repair or replace, and poor maintenance is often the culprit. Having your septic system inspected (at least every 2 years) is a bargain when you consider the cost of replacing the entire system. Your system will need pumping every 3 to 5 years, depending on how many people live in the house and the size of the system. An unusable septic system or one in disrepair will lower your properties value and could pose a legal liability. Other good reasons for safe treatment of sewage include preventing the spread of infection an disease and protecting water resources. Typical pollutants in household wastewater are nitrogen phosphorus, and disease-causing bacteria and viruses. Nitrogen and phosphorus are aquatic plant nutrients that can cause unsightly algae blooms. Excessive nitrate-nitrogen in drinking water can cause pregnancy complications, as well as methemoglobinemia (also known as blue baby syndrome) in infancy. Pathogens can cause communicable diseases through direct or indirect body contact or ingestion of contaminated water or shellfish. If a septic system is working properly, it will effectively remove most of these pollutants.
Call today 573-431-7197 Or 1-800-246-6564 to schedule your Inspections and Testing